>
Home
>
Prospective Students
                                                                                 Limited Seating Available!

                                                 PARENT, ALUMNI AND STUDENT TESTIMONIALS
♦  "Wachusett Hills Christian School has been life changing for our family.  We feel incredibly blessed.  Our daughter, despite facing health challenges, has met new friends and absolutely loves learning and growing in Christ among her peers.  We are extremely grateful for your dedication, patience and the love you share for Christ and teaching. It shines through our daughter!"                                                               - Dawn, Winchendon MA
♦  "I can't thank Mrs. Conrad & the entire WHCS family enough for the most amazing very first year of school for my daughter.  In a time of such uncertainty & chaos, (over a year dealing with Covid!), WHCS has provided not only an amazing education, but a place of normalcy.  It truly is the safe haven that she needed & what I so desperately wanted for her.  I couldn't have asked for anything more.  I am forever grateful."
- Danielle, Gardner, MA    
♦  "My son was able to gain a Godly foundation and a good base education by attending WHCS, without the numerous amounts of added stress that is found in the public school system".
- Natalie, Fitchburg, MA                                                                                                                                                                                
♦  "My daughter attended WHCS from third to eighth grade.  As a parent I loved the student to teacher ratio.  Big enough to be a classroom but small enough to get the attention you need.  The Christ first environment was essential in her experience at WHCS.  Mrs. Conrad is a selfless and caring teacher.  She loves her students.  She is the example that these children need. The independent working environment keeps kids pushing themselves.  I wouldn't change a thing".
- Samantha, Winchendon, MA
♦  "WHCS gives you the feeling of family more then a school since they are more one on one, having less students in all.  Teachers were great!!" 
- Erica, Class of '97, Winchendon, MA

♦  "The low student to teacher ratio enabled me to have a lot of personalized instruction from a teacher personally interested in my advancement".
- Orion, Class of '92, Rindge, NH

♦  "The location was wonderful and the education was top notch".
- Frank, Class of '92, Bethel, AK

♦  "My time at WHCS was amazing. I made so many good friends there at that school. The children there are very nice and it makes you look forward to the school week. You develop almost like a family bond with them. The field trips and chime concerts were always fun to go to - from aquariums, to mini-golf.  The benefits of going to this school is that you learn more about God and develop a closer relationship to Him by singing songs, doing Bible trivia, and learning of His teachings. The teachers are absolutely lovely and you learn so much from them and they're always willing to help when you need it.
I'm so happy I went to this school."
- Devin, Class of 2014, Westminster, MA
♦                                                                                          Here's one from a student...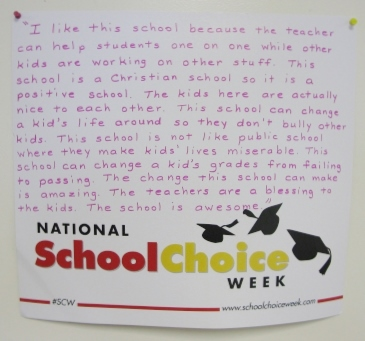 Please review the links below to learn more about the outstanding quality of an Adventist Education:
♦

Journey to Excellence Video Presentation
Hear from administrators, teachers, parents, and students about the quality academics, strong curriculum, and integrated spiritual and moral content of our school.
 For more info, click on the links below:
 ♦ What the Award Winning Filmmaker Martin Doblmeier Has To Say About Adventist Education
 ♦ Read What The Christian Science Monitor Has To Say About The Adventist Educational System                                                                                       ♦ Read These Comments By Pastor Chad Stuart, Seventh-Day Adventist Minister